We've always got an eye out for the best deals around the world, and each year, we choose 10 up-and-coming destinations that offer serious value. Whether you're looking for a sunny island getaway, a journey to the Far East, or anything in between, it's all here — and best of all, it's affordable. Check out our top 10 budget picks for 2018 -- plus a few bonuses.
Chongqing, China



There's a good chance you've never heard of this megacity in China's southwest (it was the capital during World War II) but start taking note: It was recently named the fastest growing tourism city in the world. Perched between the Yangtze and Jialing Rivers, the city has long been a magnet for domestic tourism as a hub for cruises through the Three Gorges Valley, but only recently has it reached the international radar. Hainan Airlines (mainland China's only 5-star carrier) flies there direct from Los Angeles and, as of recently, New York, with Chicago service being planned as well. And there are major deals to be had: We found round-trip fares as low as $439 for early 2018 travel. A high-speed train to Xi'an also began running this month, linking the city to one of China's greatest treasures, the Terracotta Warriors. Rapidly developing Chongqing already boasts the eighth most skyscrapers in the world, and to top it all off, a Six Flags theme park is set to open in the area by 2020. The city is also sure to delight foodies, with its traditional spicy hotpot celebrated in an annual festival each autumn.
Slovenia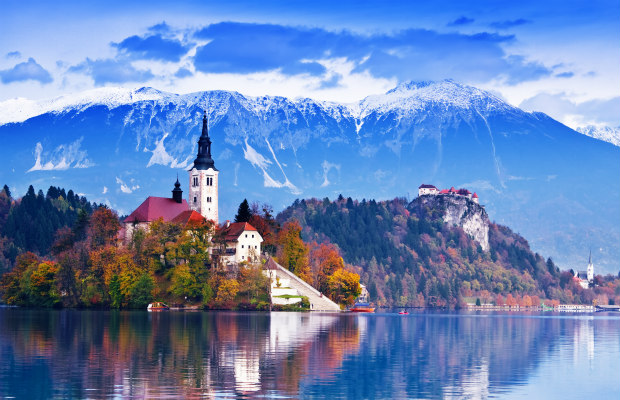 Europe has a new rising star — and it's super affordable. For a fraction of the cost of surrounding countries like Austria, you can see everything from alpine lakes and thermal springs to thick forests and mountains topped with fairytale castles. We like to think of it as a next-generation Croatia — one where the euro is accepted and there aren't too many tourists. (Get going before everyone catches on, though. Slovenia has already seen a 15 percent increase in U.S. travelers last year, maybe in part due to a certain high profile native, Melania Trump.) Capital Ljubljana, at the center, is a great jumping off point with city-center hotels hovering around $60 per night, and world-class wine regions and ski resorts within an hour's drive. To the north is one of the country's top attractions, Bled, a serene town with a church-adorned island in the center of its lake and hotels from $55 per night. The country also gets marks for convenience: No visa is necessary, and if you're in nearby Italy or Austria, it's an easy trip to add on — and a hard one to forget.
Napa and Sonoma
You can find deals galore in the pricey wine regions of Northern California in the coming year. While wildfires singed the surrounding regions in late 2017, most vineyards dodged the flames and are as beautiful as ever, luring tourists back to the region with discounts to help fuel recovery efforts. As a result, you can find great deals for local wineries and hotels and feel good about giving back to the community (a day in the area shouldn't break the bank in winter and spring, when you can find hotels for around $150 per night). We have a feeling the region's word-class cuisine and cabernet has never tasted better.
Grenada
Grenada may be the Caribbean's best kept secret. Situated 100 miles north of South America, the Spice Isle is almost always bypassed by hurricanes; the 2017 season left the island unscathed. From crowd-free beaches, to lush rainforests, to prime snorkeling and diving, to a welcoming local culture, Grenada has all the components of a perfect island escape. Best of all, a budget-conscious trip is doable. JetBlue offers direct service from JFK for as little as $349, round-trip — including select prime season dates. Brand new, spacious suites with ocean views at Mount Cinnamon Resort & Beach Club go for $415 per night, and up. And with two major resort openings from Kimpton and Silversands on the horizon, accommodation rates around the island will surely become even more competitive in the coming months.
Sri Lanka
After decades of civil war and natural disasters, vibrant Sri Lanka is finally enjoying a well deserved moment to shine. The relatively small island nation packs a punch, offering UNESCO World Heritage sites, traditional Buddhist temples, pristine beaches, and even safari parks home to some of the highest densities of leopards in the world. A visit wouldn't be complete without sampling the country's fiery cuisine or world-famous Ceylon tea. The opening of the 5-star, beachfront Weligama Bay Marriott Resort & Spa this fall marked the hotel giant's debut on the island, boasting sweeping ocean views from all guest rooms. We found nightly rates as low as $129 (including breakfast and WiFi), making it a great value for a top-rated, luxury property. Get there for less using codeshare miles on flag carrier SriLankan Airlines, one of the newest members of the OneWorld alliance and the only one based in the Indian Subcontinent. The airline even allows customers with economy tickets to bid on upgrades to business class—a savvy way to enjoy a premium cabin for a fraction of the price.
Myrtle Beach
Myrtle Beach has long been on our radar for vacations that don't break the bank. From free and low-cost activities to diverse lodging and dining scenes, a trip here can fit any budget, big or small. With more than 200 hotels in the area – ranging from upscale and boutique resorts to small, clean mom-and-pop digs to condos – inexpensive options abound. For peak-season stays, it's never too hard to find a one-bedroom suite or fully equipped apartment for less than $100. In 2018, travelers will have even more options for getting to this seaside destination: Spirit Airlines will continue to grow its network in the Midwest and Northeast with the April launch of non-stop seasonal flights from Minneapolis-St. Paul International Airport to Myrtle Beach; in March the ultra-low-cost carrier will also begin to offer seasonal flights between Columbus and the Grand Strand. Plus, American Airlines will roll out summertime weekend flights between Chicago and Myrtle Beach, making a quick escape to this coastal city both easier and more affordable.  
Medellín
Colombia's second largest city, Medellín, is no longer too dangerous to visit. The drug cartel violence of the '80s and '90s, as depicted in the Netflix series, Narcos, is a thing of the past. Today, Medellín is one of South America's fastest growing economies, and with it, tourism is on the rise, and it's incredibly affordable. In the hip El Poblado neighborhood, stay at luxe hotels like the Charlee, where suites cost as little as $181 per night. Nearby, a five-course, wine-paired meal at Carmen costs about $57 per person. Elsewhere in the city, take a $3 MetroCable ride up to rustic Arví Park. Or, get a real sense of how far Medellin's recovery has come with a $20 graffiti tour of Comuna 13, once one of the city's most dangerous barrios.
Miami
Over the last two years alone, more than 20 hotels have opened across Miami. By fall of 2018, Royal Caribbean's largest-in-the-world Oasis-class ships will call an expanded Port of Miami home. Neighborhoods outside of tourist-favorite South Beach, like Downtown and Wynwood, are enjoying an ongoing renaissance. All this, with expanded flight ($20 one-way fares on Frontier) and train (the new high-speed Brightline) options, have made a trip to The Magic City more easy  -- and affordable -- than ever. With the hotel surplus, budget-friendly properties like YVE Hotel Miami (from $108 per night) and even luxe hotels like the Mandarin Oriental (from $186 per night), won't break the bank. And for cruisers looking to sail from Miami, many low cost options are available, like MSC Cruises' 7-night Caribbean voyages (from $399 per person).
Portugal
Portugal is having a moment right now. Unlike flashier European countries such as France, Denmark, or Switzerland, Portugal is incredibly affordable, but visitors still reap the benefits of gorgeous scenery, delicious food, and fine wine--that is, everything we love about Europe. Porto is one of our favorite wine-tasting destinations, and you can easily spend a weekend in an affordably quaint B&B, vacation rental, or simple hotel for less than $50. The town is tiny, so you'll be able to easily tour the area's historic port lodges where sampling is requisite. Lunches in a charming tasca run under $10, while a multi-course dinner with wine won't often set you back more than $25. Looking for respite from the city? The Azores, a group of nine volcanic islands, should be on your must-visit list. Here, visitors can find 60-plus hiking trails, mountain climbs, whale watching, sailing, surfing, and views for days. Comfortable--even high-end--hotels can be found for $50 to $75 per night (hostels for even less) and seriously fresh food for under $10. The weather is ideal year-round, everything is green, and the wine is crazy cheap. Really, what more could you want?  
Mexico's Yucatan
Situated in the far southeast of Mexico, stretching out into the Gulf of Mexico to the north and the sparkling Caribbean Sea to the south, the Yucatán Peninsula is the ideal vacation because it can be anything you'd like: historic, beach-y, adventurous, or romantic--all at an affordable cost. For those seeking a boho-beach vibe, the cheap-chic resorts in Tulum should do the trick. Mérida, the capital city of Yucatán, offers incredible dining, inexpensive hotels or inns, and a rich cultural life centered around free public events. In Campeche, whose fortified old town is a UNESCO World Heritage Site, you'll find cobblestone streets lined with brightly colored houses, charming churches, and leafy plazas. And there are the hotspots like Playa del Carmen, where loads of all-inclusive resorts like the El Dorado Casitas Resort offer luxury at a low cost. Here, stunning private casitas, butler service, high-end dining, and activities are included in the rate, which starts at less than $500 per night (a steal considering all that's included). Finally, one of the most spectacular and often free things to see are ruins, which number between 2,600 and 2,700. Not all are open to tourists, but Chichén Itzá, Ek Balam, and Uxmal are among our favorites.
And because we couldn't stop at just 10... here are a few more budget-related vacation ideas to inspire you... 

Caribbean Cruises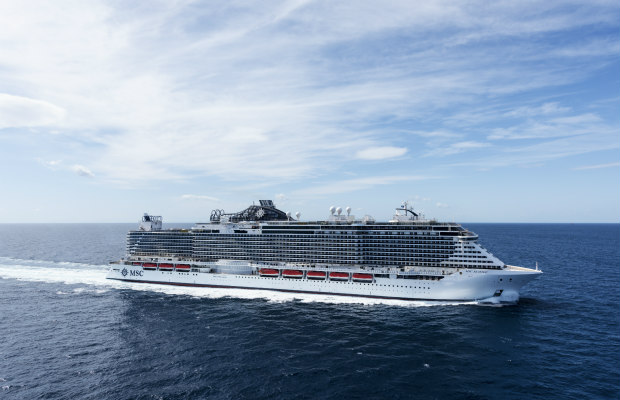 Caribbean cruises have always been a cost-effective way to island-hop for every budget, but this year we expect even more savings. After an unforgiving hurricane season in 2017 that closed down cruise ports for months, the region has bounced back strong, reopening most ports (including San Juan and St. Thomas) with open arms — and yes, the beaches are still dreamy. To get the ball rolling, cruise lines have dropped fares, and you should take advantage while you can — we've seen five-night cruises to the Eastern Caribbean from Royal Caribbean for as little as $44 per person per day. Plus, new ships are bringing more budget-friendly options to the region this year, including sailings from MSC Seaside, Carnival Horizon, and the new largest ship in the world, Symphony of the Seas, each for about $70 to $90 per person per night. And, if you've had Cuba on your list, now is the time to go. Norwegian Sky sails four-day itineraries there from $549 per person from May to November, and with U.S. and Cuba tensions in flux, you may want to visit the hot cruise destination while you can.
Canada's Atlantic Provinces
With dramatic seaside scenery, quaint little towns ripe for exploration, and nary a tourist mob in sight, Canada's Atlantic provinces — Nova Scotia, New Brunswick, Newfoundland and Labrador, and Prince Edward Island — make for a getaway that's as Instagram-worthy as it is affordable. Built for road-tripping and lazy wandering, you can't go far without encountering a lighthouse, a sprawling national park (kids under 17 are admitted free in 2018), or a roadside seafood shack. Check out vacation rental sites like Airbnb and HomeAway for lodging around $100 per night in
treehouses
,
sea cottages
,
tiny houses
, and even a refurbished
train caboose
.