Have you purchased your gift for Mother's Day (May 10) yet? Lucky for you, we've lined up 11 items that globetrotting moms will love. Even better, most are things that can be used both at home and away from it – plus they're $30 and under. Check out amazing Mother's Day gifts for the traveler here. 
1. This Compass Necklace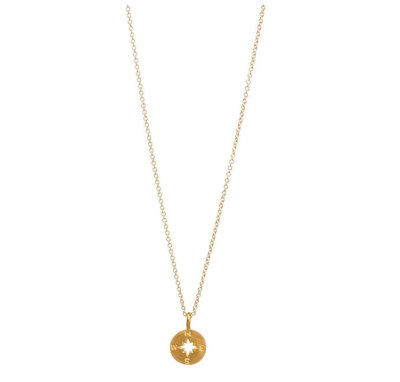 Keep the idea of an adventure close to the heart with this simple piece of jewelry that has all four directions engraved on it. Buy it now.
2. An Infinity Scarf
Here's an accessory that's both fashionable and functional. Available in an arrow pattern in eight hues, as well as several solid colors, this scarf has a built-in zippered pocket to carry a phone, credit cards, passport, and more. Buy it now.
3. A Cute Pair of Travel Socks
Choose from about two dozen major destinations – including Venice, the Grand Canyon, and India – to remind Mom of her favorite place or one that's still on her list. Buy it now.
4. This RFID-Blocking Bifold Wallet
We love that this wallet comes in 40-plus brilliant colors. It has 18 card slots and two zippered pockets, ideal for cash and some cellphone models. Buy it now.
5. A Photography Cookbook
This isn't your average book of recipes – it won a James Beard award for photography, after all. Fittingly for Mother's Day, the book shares stories and recipes from grandmothers around the world. Learn to make authentic Swiss chard and ricotta ravioli with meat sauce, pasteles de carne, and more. Buy it now.
6. This Tropical Beauty Set
Pamper Mom with this kit that comes with shampoo, conditioner, salt scrub, and face mask – all of which smell like the tropics. Buy it now.
7. A Light Fleece Jacket
Take your pick of 15 colors and three prints on this jacket that has a full zipper, high collar, and two zippered pockets. Buy it now.
8. A Toiletries Organizer
Whether it's for at home or on the road, this bag will hold all the essentials with several zippered pockets. What's more, you can even hang it up for easy access. Buy it now.
9. These Cozy Slippers
Perfect for relaxing, these printed slippers come in more than 35 beautiful patterns. When it's time to travel again, store them in their carrying case and throw them into a suitcase. Buy them now.
10. A Wide Brim Hat
We can see any mother looking stylish in this hat, whether it's during a neighborhood stroll, doing some gardening, or getting back to the beach. Buy it now.
11. This Scented Candle
Evoke the nostalgia of beloved destinations – like the United Kingdom, Canada, and France – through the power of scent with this candle that's made in the United States. Buy it now.
ShermansTravel uses affiliate links in this article to generate revenue. When you purchase an item after following one of these links, ShermansTravel may receive a commission. The items in this article were chosen independently by ShermansTravel's editorial team.